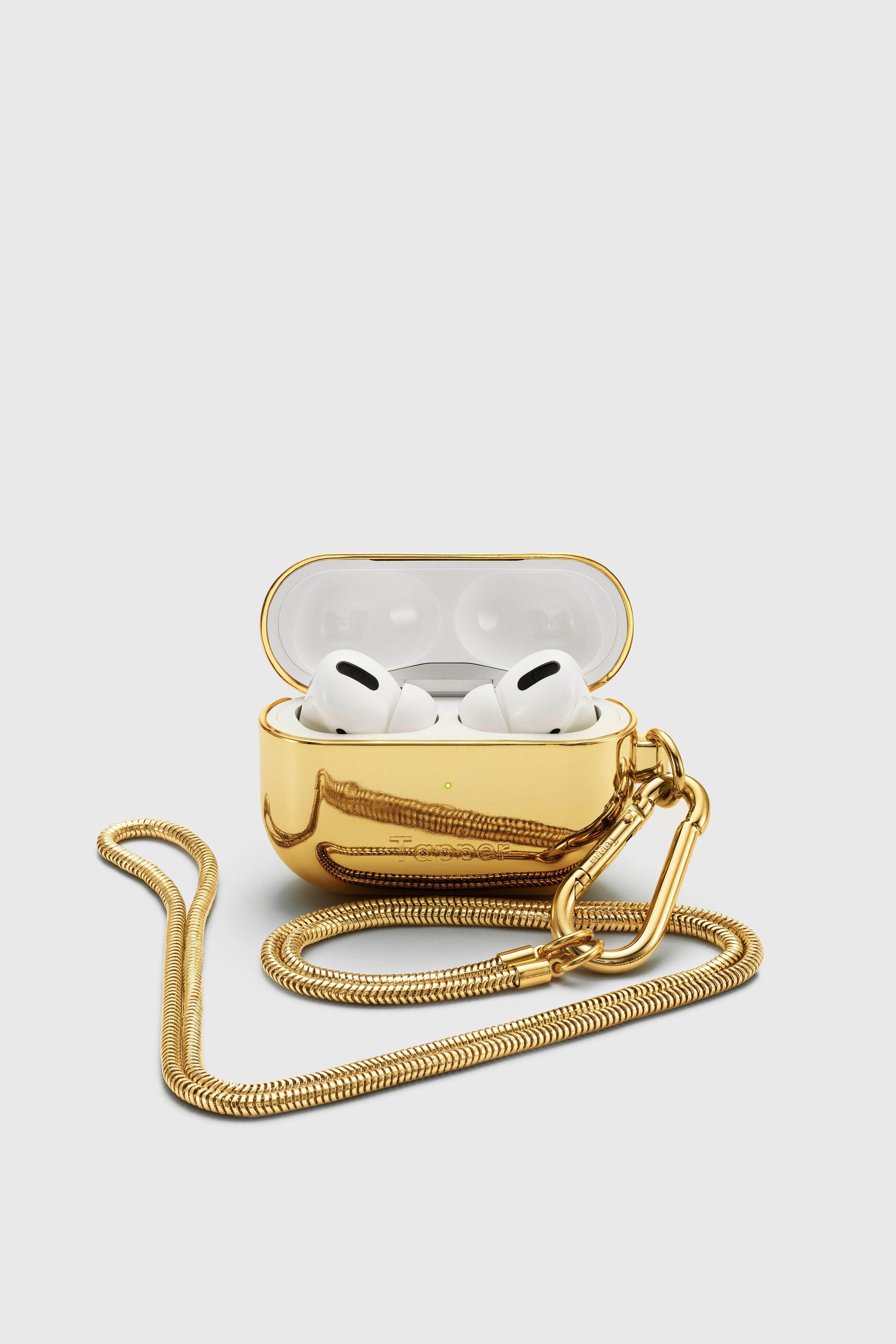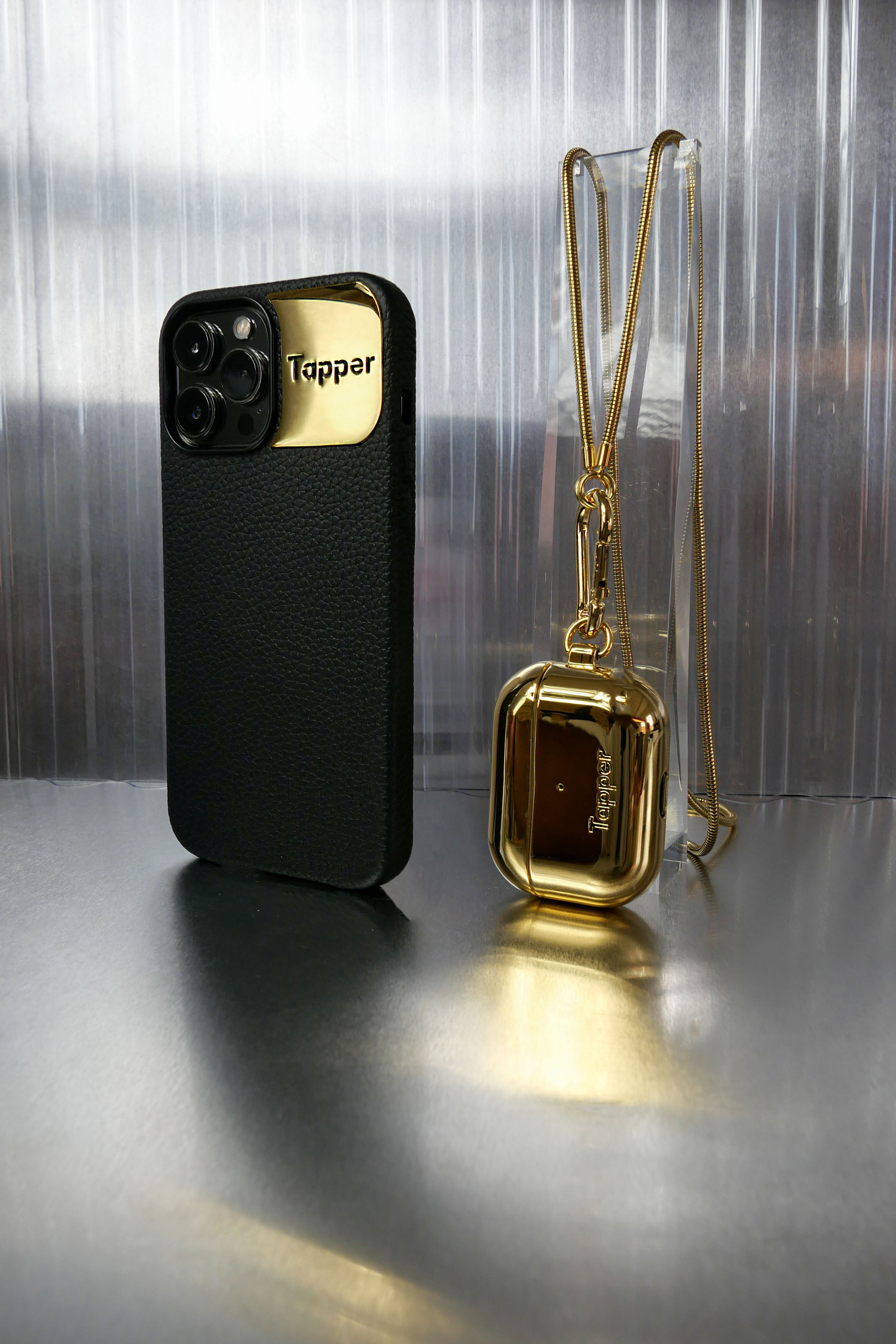 18K Gold Plated Neck Case (AirPods Pro 1 and 2)
Description
BUY 2 OR MORE AND GET 50% OFF EVERY 2ND ITEM - Mix and match as you wish!

The original metal neck case jewelry for Apple AirPods Pro plated in 18k gold. A luxe, unique and multifunctional case to keep track of your AirPods Pro. Detachable snake chain and carabiner for hassle-free safekeeping around your neck, on your bag, on your belt loop or in your pocket. Compatible with Apple AirPods Pro (1st and 2nd generation). Designed in Sweden.
Details
Composition:
-18K Gold Plated Brass

Specifications:
-Length: Total approximate length from top of shoulder seam to bottom of case when around the neck, WOMEN 39-42 cm (15.35-16.54 in), MEN 37-40 cm (14.57-15.75 in)
-Weight: 116.5 grams / 4.11 ounces
-Compatible with AirPods Pro (1st and 2nd generation) - AirPods Pro are not included
-Compatible with AirPods Pro 2 built-in speaker to easily locate your AirPods case.
-Not compatible with wireless / inductive charging

PLEASE NOTE: When assembling, remember to attach the top part of the case/product before you attach the bottom part.

Care Instructions: Keep away from water and chemicals such as perfume, lotion and hair spray since it may discolor the product / plating. Store away from direct sunlight, damp, and extremes, either heat or cold. Store in a jewelry pouch or other soft lining pouch or box to avoid scratches. Never force or pull the chain / product.

Assembly Instructions:
1. Remove the cover tape from the self-adhesive tape inside the top part of the case / product before you attach it to your AirPods Pro charging case. For better self-adhesion, clean the surface of your AirPods Pro charging case before attaching the self-adhesive tape.
2. Attach the top part of the case / product to your AirPods Pro charging case and push down on the top part to make sure it sticks well.
3. Lastly, attach the bottom part of the case / product to your AirPods Pro charging case.

Disassembly Instructions:
1. Start by taking off the top lid by pulling from the back end of the case.
2. Take off the bottom part by pulling the AirPods Pro charging case straight up.
3. Clean with a damp non-colored / white cloth if there's self-adhesive tape residue left on the top of your AirPods Pro charging case once you've removed the top part of the case / product.
Shipping
Worldwide shipping with DHL Express and International Postal Service / Deutsche Post (both options are trackable).

FREE DHL Express worldwide shipping on orders from 100 USD / 100 EUR / 85 GBP / 130 CAD

Orders are shipped from Sweden (EU).

See delivery times and shipping costs for your chosen country in checkout.

For additional shipping information, please see Shipping Info in footer.
Customer Reviews
"Tapper has been a game-changer for me. As someone who is always on-the-go, I no longer have to worry about misplacing my AirPods. The strap is not only functional but also adds a touch of style to my everyday look." - Sarah

"I love how versatile the Tapper AirPods Strap is. It's perfect for traveling, city life, and even when I'm working out. I can confidently say that it has become an essential part of my daily routine." - John

"Tapper has truly revolutionized the way I use my AirPods. The strap is lightweight, durable, and incredibly easy to use. I can now enjoy my favorite music without the fear of losing my AirPods." - Emily

For additional reviews, please see Customer Testimonials in the main menu.
Goes with (50% off every 2nd item):
18K Gold Plated Neck Case (AirPods Pro 1 and 2)